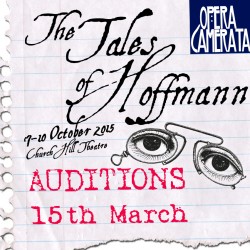 Auditions for Camerata production of Tales of Hoffmann
Posted 15 Feb 2015
Opera Camerata's production this year will be Tales of Hoffmann by Jacques Offenbach and will be performed at the Church Hill Theatre, Edinburgh from October 7-10.
The Directors for the show are Alison Rushworth - Musical Director and Elspeth Williamson - Stage Director
Auditions for Principal Roles will take place on Sunday, 15 March, 1.30 to 5pm at St Ninian's Church, Corstorphine. Those wishing to audition should contact Alison on 0131 441 4894 or email at alisonrushworth@btinternet.com to book a time.
Chorus rehearsals will start on Monday, 20 April and take place in St Ninian's at 7.30pm and every Monday until the end of June when there will be a break for July and August. Rehearsals will resume 24 August with twice weekly rehearsals on Monday eve and Sunday afternoons. Principals will also be required at this time. Principal rehearsals take place on Wednesday evenings starting 22 April.
Opera Camerata would like to encourage new members to come to sing in the chorus, especially men and in particular - tenors. But all voice ranges are welcome. Our Directors are both friendly and certainly put people at ease. Alison would want to hear new chorus members sing something and she would listen to them at the end of a rehearsal.
The Directors are planning 2 workshops on the first 2 rehearsal nights in April - 20th & 27th - and would hope to see some new singers come along. We would like to encourage our regular members to bring along or invite anyone who is interested to come along on these two nights.
We will be using the Schirmer score and singers will be expected to provide their own.
Audition Pieces; Score - Schirmer Edition
Hoffmann (tenor) - Romance - page 74 - 77
Nicklausse (mezzo-sop) - from the 3/8 Allegro - page 80 - 82
Act 1
Spalanzani (tenor) - page 70 - 72 + page 91 (Misurato) - page 93 ('he's a solid banker')
Coppelius ( bass-baritone) Scene and chanson - page 84 -89
Olympia (sop) - page 110 -113
Act 2
Giulietta (sop) Duo - page 180 - 187
Schlemil (bass-baritone) as for Crespel, or from page 204 - 211
Dappertutto (bass-baitone) Air and recit - page172 & page 176 -178
Act 3
Antonia (sop) Romance - page 219
Crespel (bass-baritone) - page 297 - 298
Dr Miracle (bass-baritone) - page 274 - 276
Voice of Antonia's mother (mezzo-sop) - page 281 - 285
Cochenille/Pittichinaccio/Franz (tenors) - Couplets/verse - page 228
Lindorf will be sung by either Coppelius, Dappertutto or Dr Miracle