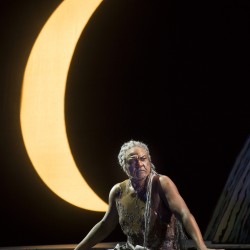 Rusalka the haunted mermaid
Posted 6 Apr 2016
Antonín Dvorák's 1901 opera Rusalka is being staged by Scottish Opera to general acclaim.
The first production in Scotland since the Edinburgh Festival of 1964, and only the second-ever staging here, the return of this haunting work is long overdue.
Opera, as the least realistic of the arts, is often at its strongest when it draws us in to worlds of fantasy which help us reflect on the human condition. Rusalka is a fine example of the genre. Here we see the French soprano Anne Sophie Duprels portraying a shift from mermaid to mute human then desolate spirit. In this process she is accompanied by commanding performances from Sir Willard White as her father (pictured) and Peter Wedd as her Prince.
There are only a handful of performances, so catch it if you can. To find out more, and to see more production images, click through here and scroll down.