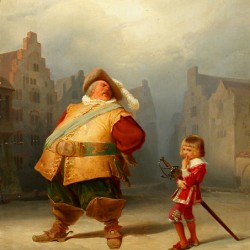 Opera Bohemia to perform Falstaff
Posted 21 Jan 2018
Opera Bohemia are poised to make further progress as Scotland's young touring company, following their success in 2017 taking Bizet's Pearl Fishers round Scotland.
It was marvellous to hear that last year audience numbers reached a record high with nearly three and a half thousand people seeing their Pearl Fishers, and many venues sold out.
The new production will be Verdi's comic opera, Falstaff, based on Shakespeare's play, the Merry Wives of Windsor. Performances of Falstaff will take place in July and August 2018 in Ayr, Strathpeffer, Elgin, Aberdeen, Dundee, Kirkcaldy, Lanark, Stirling, Dumfries, Greenock, Edinburgh and Glasgow.
Most of the cast members are still to be confirmed but the star of Opera Bohemia's production of Gianni Schicchi, Andrew McTaggart will once again lead the cast, this time in the role of Falstaff.
Opera Bohemia plan also to build on the success of their pilot educational project last year, enjoyed by youngsters at 14 schools across the country. Many of the children who attended the workshops then came to see their full production. With music education in schools constantly under pressure, this contribution to outreach work can only be welcomed. Well done, Opera Bohemia, in the vital work of bringing new audience members to opera.
OperaScotland will post full production and tour details as soon as they become available.