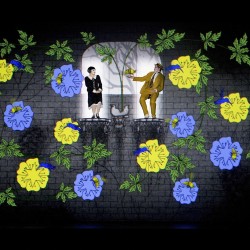 Edinburgh Festival programme announced!
Posted 18 Mar 2015
The first operatic programme of Fergus Linehan's tenure as Festival Director has a different look to it from those of his predecessor.
In addition to the concert performances of Rake's Progress and H M S Pinafore already announced, there is the world premiere of a new chamber opera The Last Hotel, by composer Donnacha Dennehy and writer Enda Walsh, and Komische Oper Berlin's Magic Flute (pictured). Finally, we have some semi-staged performances of Marriage of Figaro involving the Budapest Symphony Orchestra under Iván Fischer. Expectations were not high when this was first announced, but seemingly it is somewhat out of the ordinary - the orchestra is on stage at the Festival Theatre, interacting with the singers.
Even although there has been little time for the new Director to change programming, with a schedule involving four performances of Flute, three of Figaro and five of Last Hotel, it seems that greater importance is again being given to opera.
However there is one operatic event that promises an element of frustration. William Christie, the great exponent of the French Baroque, gives a welcome Usher Hall concert with the SCO on Monday, 10 August, at the rather odd starting time of 9.00pm. We are promised ninety minutes, without an interval, of scenes from what are arguably the greatest French operas of the seventeeth century (Charpentier's Médée) and of the eighteenth (Rameau's Les Boréades). Neither work has appeared in Scotland before, and to hear them only in fragmentary form seems hardly likely to show them at their best. We shall see.
More information will be posted when we receive it.